I finally have the game at the top of my "most wanted" list under lockdown. The capture went pretty smooth and the fugitive known as Tempest was taken in to custody without incident. I had been tracking this one for quite some time and caught up with it near "the biggest little city in the world", the seedy little place otherwise known as Reno, Nevada. The game was hiding out on the edge of town, just beyond the lights and sounds of the downtown casinos. This game had been passing some time away in a storage unit behind a house on some property. It was night as we moved in to get the first glimpse of where the game had been hiding for the past few years. As the coyotes howled, we rushed the building and found the game ready to surrender. As with most fugitives, I think being captured came as somewhat of a relief. The game will now be well cared for and brought back to its former glory. The game was extradited back to Idaho where it will be processed and admitted to my arcade to serve a life sentence without the possibility of being sold.
A fellow collector had harbored the game for the past several years, but as we all know, time passes and priorities change. He finally decided it was time for him to give up the Tempest. What made this an extra special capture was the fact that this appears to be an early artwork model. You can add this one to the list of games that I feel lucky to own. I can't wait to get started on the rehabilitation process. Stay tuned for more as this fugitive is prepared to be locked away in my arcade forever.
The first mug shot :


Notice the numbers next to the player 1 and 2 start buttons:


The rear corner will need some attention :


The game looks a little better after some clean up :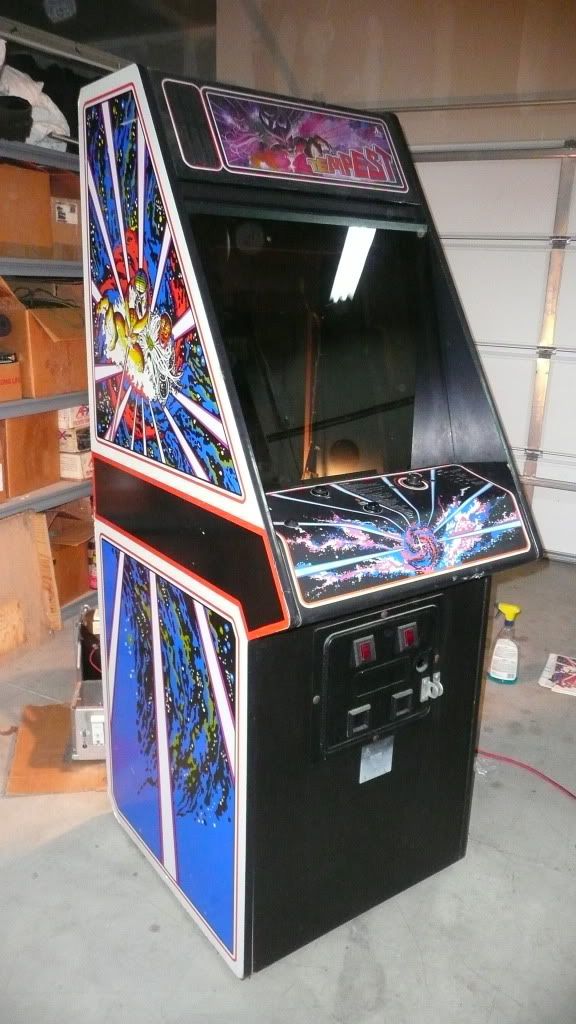 To be continued...