It's been almost 5 years since I packed up everything I own, said my goodbyes, and headed for the land of Famous Potatoes. You don't even realize how hectic life is in the big city until you break away and then look back from a safe distance. Idaho has been good to me. Good for my blood pressure. Good for my soul. And most importantly, good for my arcade collecting addiction. I decided it was time to give a little more intimate look at my game room and some of the highly valuable junk that is in it.
Flanking the entry is a poster from one of my favorite horror movies, a picture from one of my favorite TV shows and a concept drawing of the fastest hunk of junk in the galaxy: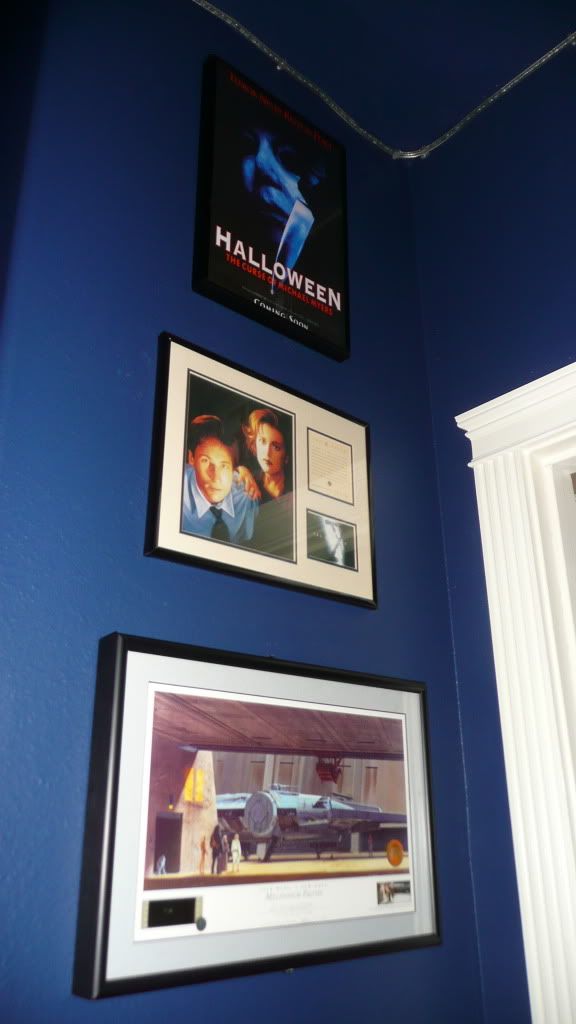 The opposite side of the entrance is home to the Star Wars posters including one that was autographed by Mark Hamill, The Racer X tin sign, and one of the JBL speakers that deliver non-stop 80's hits from Billy Idol, Men without Hats and the like :
Some of the Batman artwork I have including a couple that were signed by the creator of the Dark Knight himself, Bob Kane :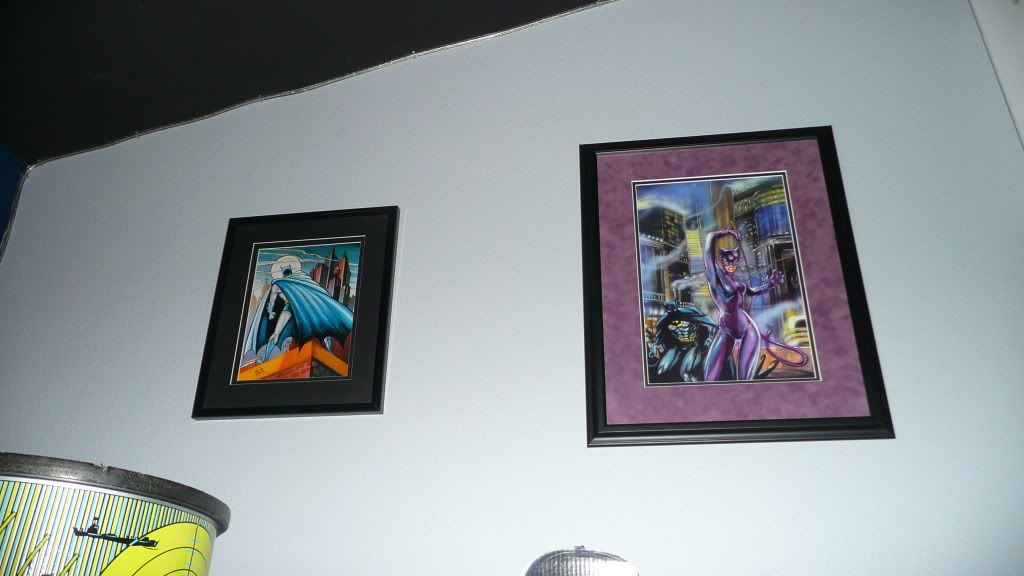 "The Shelf", home to all my figurines and other random items including my old D&D handbook and an autographed picture of Elvira, Mistress of the Dark :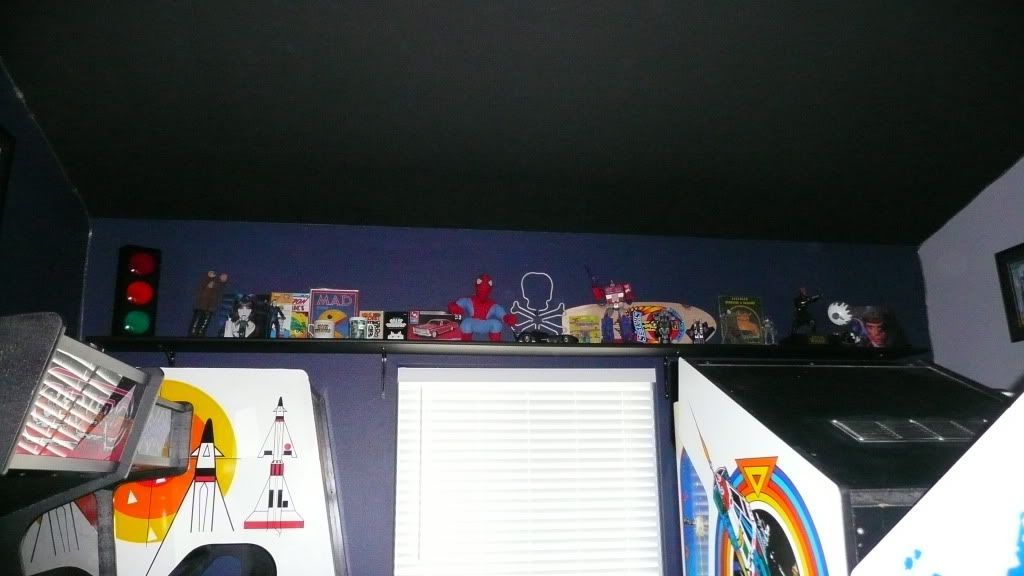 Another movie poster of an all time classic, my custom neon sign made right here in downtown Boise by Rocket Neon, and a glimpse of the obligatory Tron poster :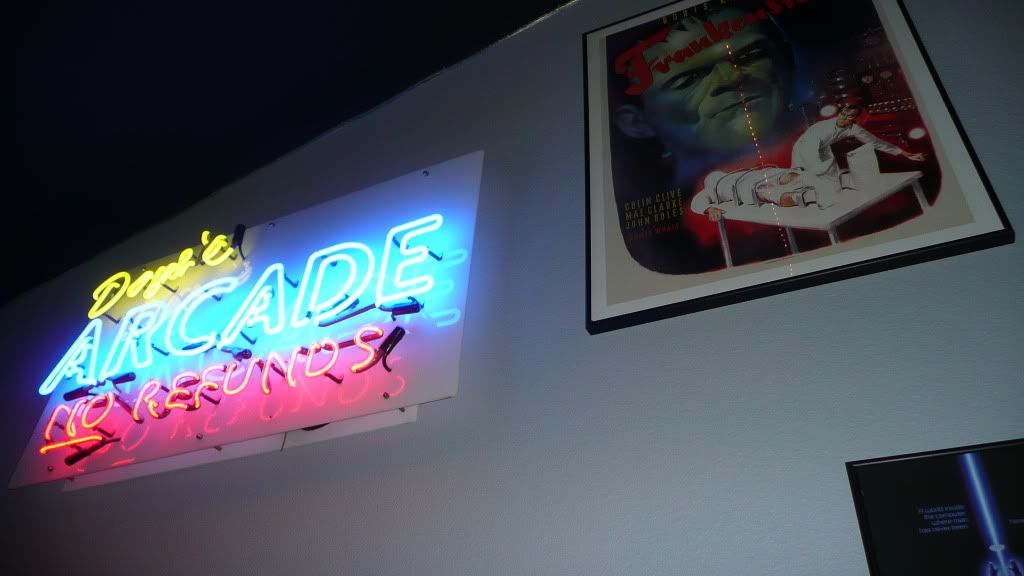 This little gem joined us after retiring from a Chuck E. Cheese. Looking right at home in front of the window is my beloved Joust Cocktail :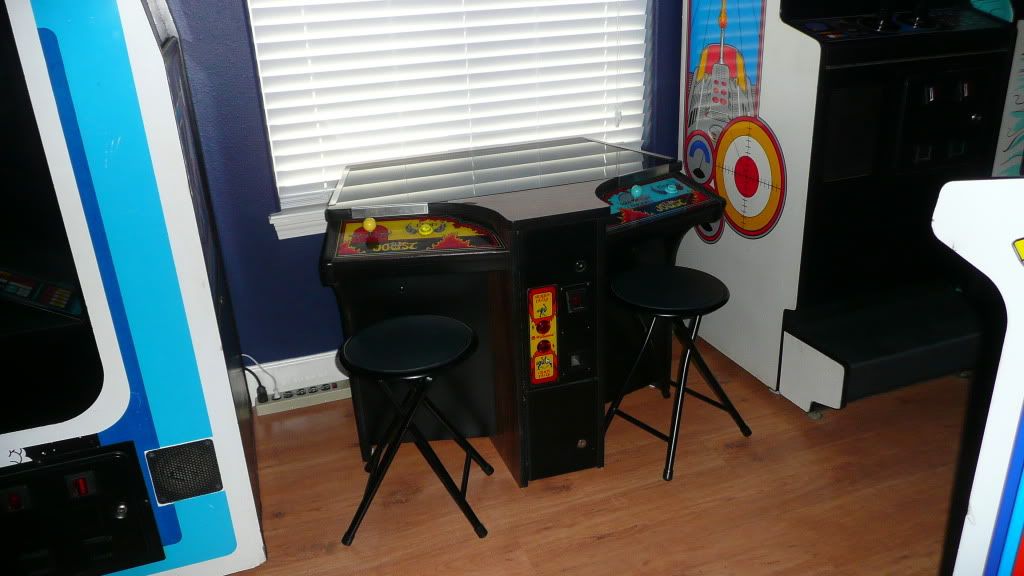 Would you believe this is the original painted on artwork on the cabinet? Would you believe this is the original control panel overlay ? Would you believe all I did to this game was repaint the black area around the monitor and put new orange t-molding on ? Would you believe this game came from the San Jose auction ? I was there when Scott Evans scored this gem and a few months later he sold it to me for the same price of $700. I have yet to see a cleaner original Pacman at any price :
And when the lights go down it looks something like this :
Meanwhile, on the other side of the house, my pinball parlor has slowly been taking shape and will eventually be decked out in 50's memorabilia :
So there ya have it. My time capsule,my panic room and the place I can step into anytime I need a little blast from the past or some peace of mind all rolled into one. Hope you enjoyed the tour of my game room,my pinball parlor, and my own private Idaho.