We all know about urban legends. When I was a teenager growing up in the East Bay we were all aware of the urban legend about the White Witch that roamed the East Bay back roads. I would be a liar if I said I had never gone out with my friends looking for her. We spent countless weekend nights cruising along dark and windy roads hoping to catch a glimpse of her. Fast forward many years and now I had a new urban legend to chase after: a warehouse full of games. After hearing about it from a couple different people, I decided to look into it a little deeper. The rumor was that this warehouse was home to four Battlezones, a game that was high on my want list. It was time to go a little "Scooby Doo " and track this one down. With a little help from Dan (Hatrick) I was able to get a contact number for the owner of the machines and gave him a call. After talking a bit he made me an offer: get the Battlezones working and I can keep one. He said I would be able to cherry pick all of the best parts to put on the cabinet I wanted to keep. I told him I would want to see the machines before accepting the challenge. I met one of his guys at the warehouse that just happened to be a couple miles down the road from where I live. We went in and took a look around. Most of the classics were gone, but the Battlezones were still there along with a hundred or so other games sitting, collecting dust, and providing habitat for the Black Widow spiders in the neighborhood. Of course the Battlezones were upstairs. Why should it be any easier than it has to be?
All four machines were clustered together in the dark corner of the second story behind a couple other machines reminding me of a scene from "I am Legend". They had been sitting there about 15 years. We dug them out and looked them over. They were in various states starting at fair and going down from there. Just the kind of challenge I like. I decided to go for it. We hauled the machines down the stairs, loaded them up,and took them to my garage. Maybe catching up with an urban legend wasn't such a good thing after all. Time would tell.
First things first. I had to decide what cabinet I wanted for myself and start moving all the best parts to it. After getting my game assembled I put the others together. There were only enough parts to make 3 complete machines so that is what I did. One of the cabinets had the 2 lower front and back panels busted out. I set it aside and went to work on the others. Using my rebuilt spare monitor, I tested all the motherboards. They were all partially working. There was only one good set of roms between the 4 motherboards. I used that set and found 3 of the motherboards to be good. I ordered the High Score save kits for those boards and went to work on the monitors. After capping the monitors and changing the chassis transistors, I had two working monitors and one that was blowing fuses. Using my meter, I was able to find the guilty transistor on the deflection board and changed it out.
Now it was time to take control of the controls. I had to repair some wiring and replace a couple bellows and the controls were working like new again. Flowed some solder over the AR-2 boards in a few places, adjusted the voltages and I had 3 out of 4 Battlezones ready to do battle again. I consider it a moral victory getting 3 out 4 working again as there weren't enough parts to make the fourth game whole and the cabinet was busted up.
I replaced the t-molding on my game and put some new rubber mat on the step. I ended up with what I consider a collector quality game, a great learning experience, and 3 more games back amongst the living. There are still games out there in dusty old warehouses waiting to be saved. They won't crawl out of there on their own. All it takes is a little initiative, and in some cases, being willing to believe in a local urban legend. Sometimes you find your "White Witch" and sometimes you don't. This urban legend proved to be real and worth the Scooby Snacks it cost me to find my Battlezone.
Zoinks ! A picture is worth a thousand words...
This note gives me the creeps :
What would Scooby Doo ? He would select this shaggy looking cabinet to keep for his own, and so did I :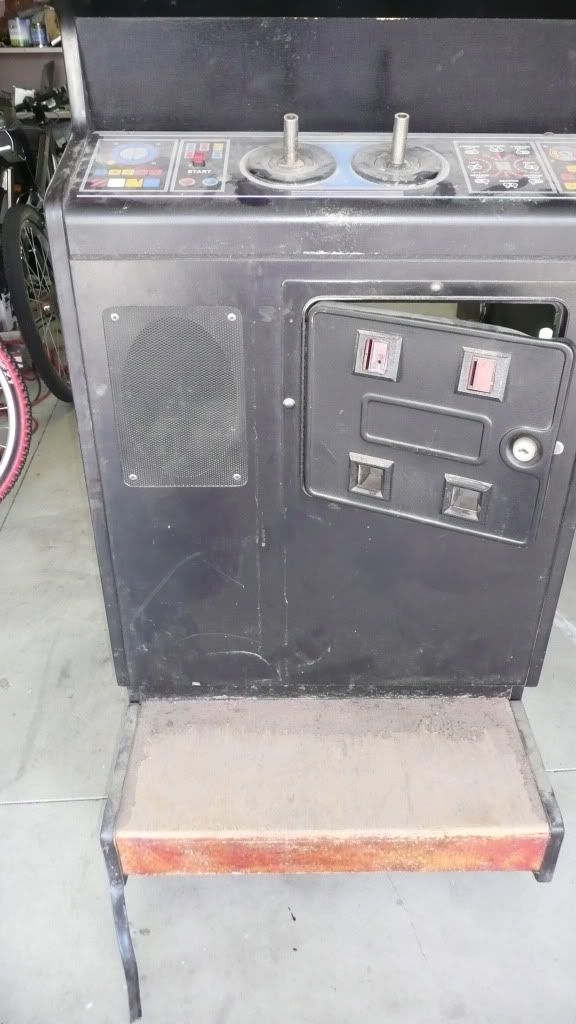 Obviously the work of a dark and twisted mind, or a four year old :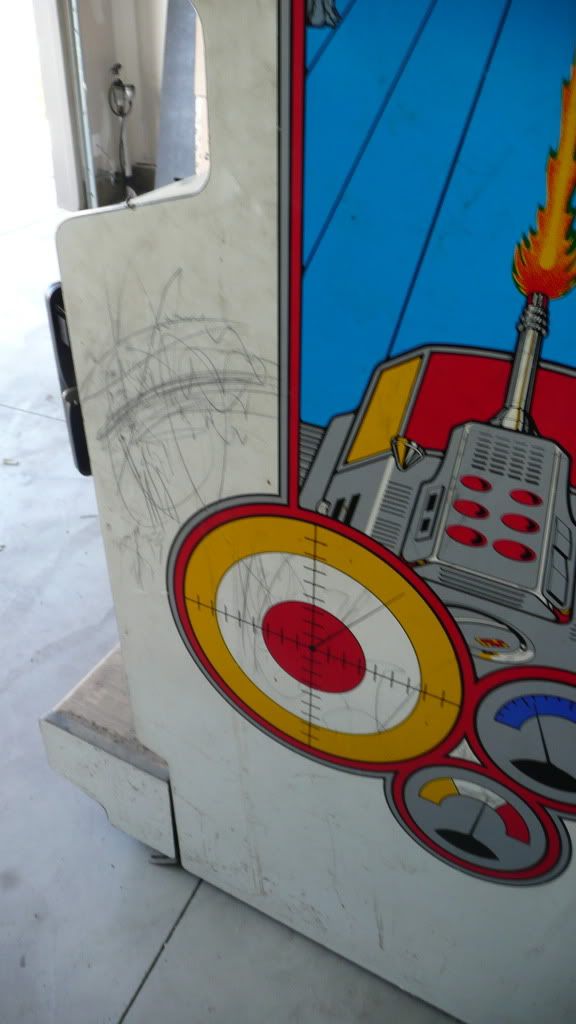 Not looking too shabby now :








One for the money :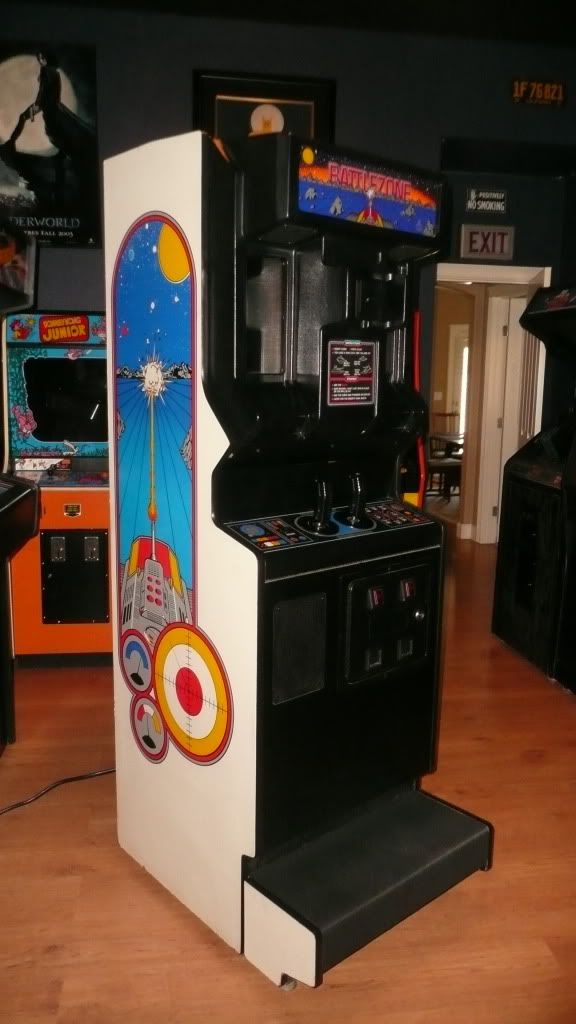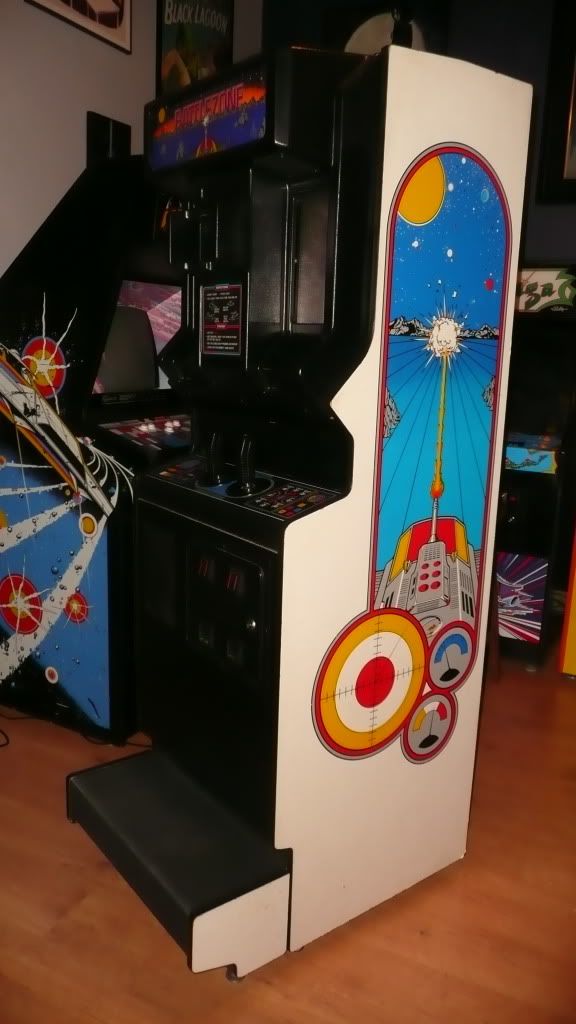 And two for the road :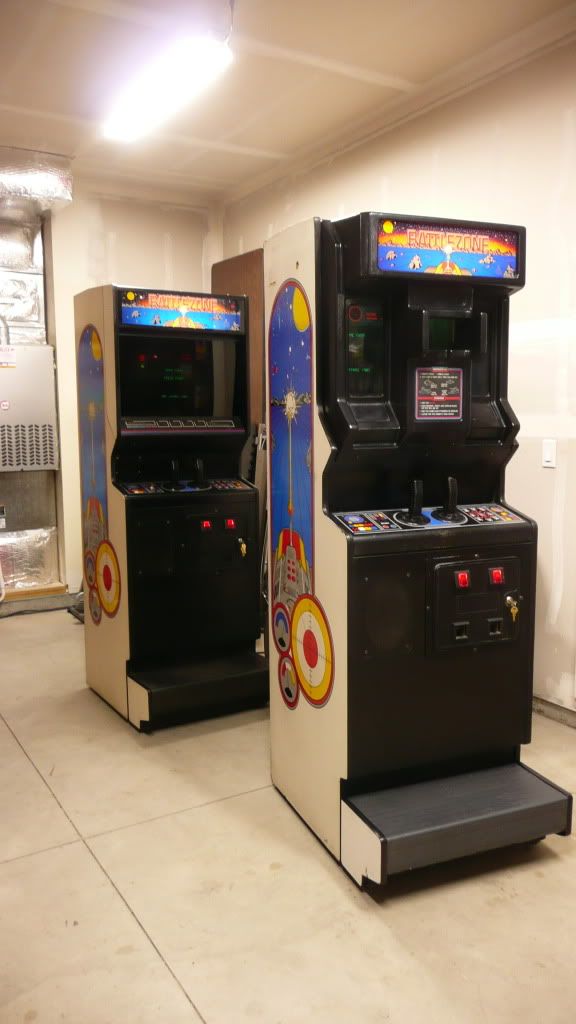 The mystery of the missing Battlezones has been solved.

The End.