Early this morning at approximately 01:30 hours, a Lunar Lander burned into the southwest corner of Idaho's atmosphere. There was very little fanfare on this lonely stretch of highway. The event was only witnessed by two earthlings and punctuated by a lightning strike off in the distance. Me and my trusty sidekick Duke welcomed home the Lunar Lander after its 6 year mission in space. So the title is a little misleading. It wasn't really lost and it wasn't really in space either. It was located in the Chabot Space and Science Center nestled in the hills of Oakland California. It's mission: to boldly go where no arcade game has ever gone before , to explore new worlds, and to help future astronauts hone their skills should they be called upon to travel into space and land on the moon.
I had seen a request by the Chabot Space and Science Center for a Lunar Lander arcade game to be used in one of their exhibits. I happened to know where one was for sale at a pretty decent price. I had just absorbed several games from the seller and was trying to get them working and out of the garage. Space in my garage was at a premium with 2 newly acquired Star Wars cockpits and Star Wars and Asteroids uprights sitting in there. I was going to pass on the Lunar Lander but figured I could pick it up and loan it to the Chabot Center for awhile. I replied to the Chabot Center and told them I could help them out. I picked up the Lunar Lander and started preparing the game for its mission. My tech friend Tom dropped by to get the game working. As usual he asked,"How good does this one need to be?" I just looked at him and said "Space Shuttle". He got the hint. While Tom got the game working and bullet-proofed, I had a custom plexiglass cover made to protect the control panel from the potentially harsh environment it would be exposed to. I delivered the game and what was originally going to be a two year mission ended up lasting about six years. The game was on almost every single day with only two complications, both motherboard related. Not bad for an old Lunar Lander with G05-801 hardware in it.
After moving to Idaho and being away for several years, I decided it was time for the Lunar Lander to come home. Tamara, the exhibits manager at the Chabot asked for a little time to have a new venue prepared to take the place of the Lunar Lander. We set the pick up time for July so I could make the Cal Extreme Show and complete two objectives in one trip down. Everything went as planned and now the Lunar Lander is back where it belongs. It felt good being able to help out the Chabot Center and then ending up with a Lunar Lander. Special thanks to Tom for doing a great job prepping the game, Tamara Schwarz and her associates for taking great care of the game while it was there, and fellow collector Frank A. for making a trip to the Chabot Center and repairing the motherboard when it gave out. I hope NASA appreciates our efforts to train their astronauts for them.
Going to the Cal Extreme show in the new location and picking up my Lunar Lander, not a bad way to spend a weekend. The Lunar Lander will be checked out and then retired to my game room. This machine was probably played more at the Chabot Center than it ever was played in an arcade. It was great seeing this game get another chance to be out there and enjoyed and appreciated by so many people. The mission was a complete success. It was an honor and a privilege to help out the Chabot Space and Science Center. Who knows, at the rate North Korea is going, maybe the Defense Department will put out a request for a Missile Command game. I'll be ready.
As usual, a few photos to finish things off...
"Hey, it's not a bad gig, i get 3 square meals a day and a roof over my head" :

Not even the Space Shuttle gets wrapped up this well for it's journey home:

I had to replace the mission selection lamps and the starter for the marquee light but other than that the game passed it's post flight check list with flying colors :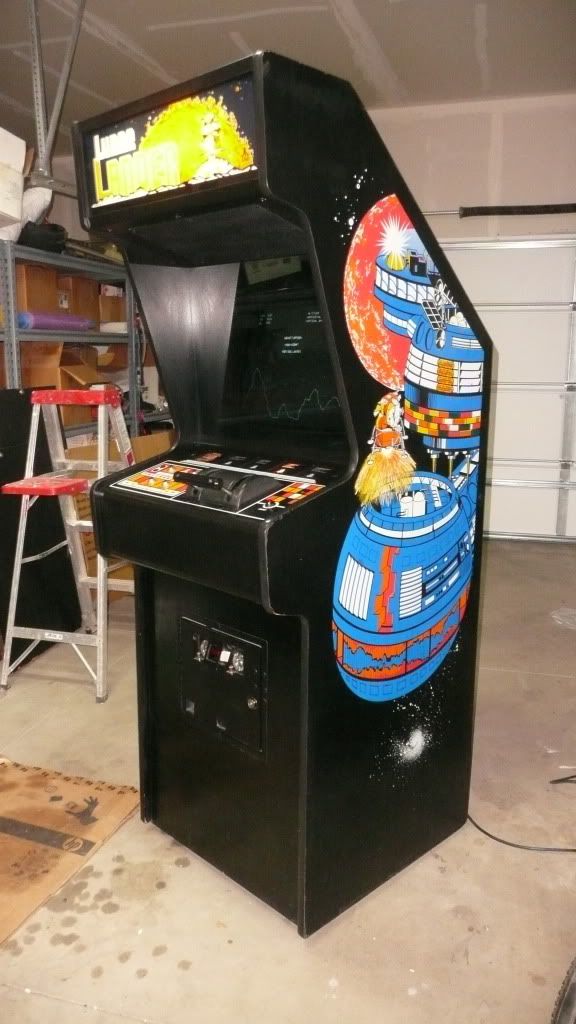 A little detailing and minor adjustments and it's ready for it's next mission, to the game room :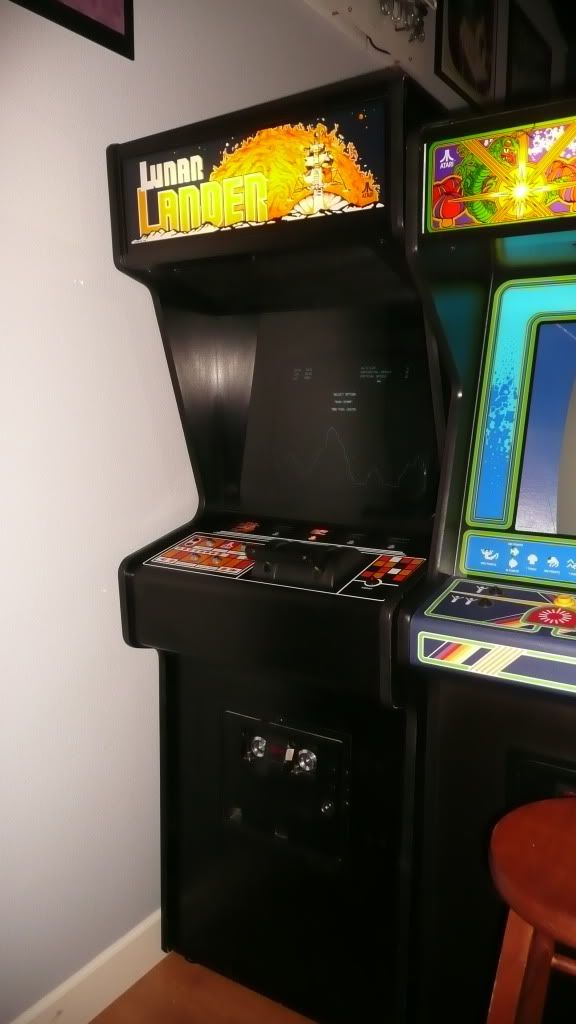 The End.