This being a blog about arcade game collecting and restoration, I know I can only skate so long between extreme game makeovers. But due to time restraints, weather restraints and plain old lack of motivation restraints, I have been hard-pressed to get my you- know-what in gear and get out there and fix up a game. A recent reconfiguration of the gameroom ( more on that to come ) left me with a gaping hole to fill. It was just the motivation I needed to overcome previously discussed restraints and make something happen.
Typically speaking, when you see the word "lite" after anything, it means you are paying more for less. Less sugar, less calories, less fat, you know, basically everything and anything that makes something good to begin with." Lite" usually means unnatural, artificial, and as much as you try and kid yourself, worse- tasting than the original. Well I am bucking the trend here with an old Zaxxon arcade game. This game is really what I consider a survivor. It has been in deep hibernation in the garage for about 5 years now. There were a few minor blems here and there but nothing too serious. The sides are almost flawless so it was really just the front that needed attention. I was really tempted to go big and replace the front wood grain, control panel overlay, t-molding and the buttons but stopped just short of pulling the trigger. After giving it a little more thought, the goal here would be to salvage as much of the original game as I could and like some of those home-improvement shows, I wanted to make the game look as good as I could on a shoe-string budget.
A lot of people have a real dislike for the wood grain on some of the classics like this Zaxxon. For me, it brings back memories of the coffee table we had when I was a kid. I grew up in a pretty strict household. There wasn't a lot of wiggle room on the house rules, but luckily one thing my parents understood was the importance of Hot Wheel cars being allowed on the coffee table. The "Speed Racer canyon jump" from the arm of the sofa to the coffee table was an integral part of my childhood. Rather than fight it, my Mom just covered the table with some faux pas contact paper and would replace it about every 6 months or 3,000 Hot Wheel car miles, whichever came first. The wood grain on the Zaxxon would have to stay.
The trick to a resto-lite isn't to make everything perfect, but to touch up the blemishes just enough to where your eye passes over them, at least initially. I cleaned the lower black panel and touched it up. I also touched up the spot in the middle of the front wood grain panel where it had obviously been allowed to free-fall open and hit a key that was in the lower access panel. . I cleaned the original overlay and buttons. I repainted all of the black metal pieces except the marquee bracket and speaker grill as they looked fine.
I did take one liberty and painted the inside edges and around the speaker grill area black. The original brown paint was totally worn off in several places. The only parts that were actually replaced were the locks on the doors. The keys were missing and I had to break in to the game.
Unlike something that is typically "lite", my restoration of this game was less expensive and the game is almost completely original. It was more like a face-lift than a restoration actually. In the end, I am pleased with the outcome and for once I am more proud of what I didn't replace than what I did replace. Like our old coffee table, this game isn't perfect, but it is presentable and as Mom used to say "A little powder and a little paint, makes you pretty when you really aint ". So without further a-do, I give you all the less- than- gory details of a resto-lite. I think Mom would be proud.
Before :
The itsy bitsy spider was here: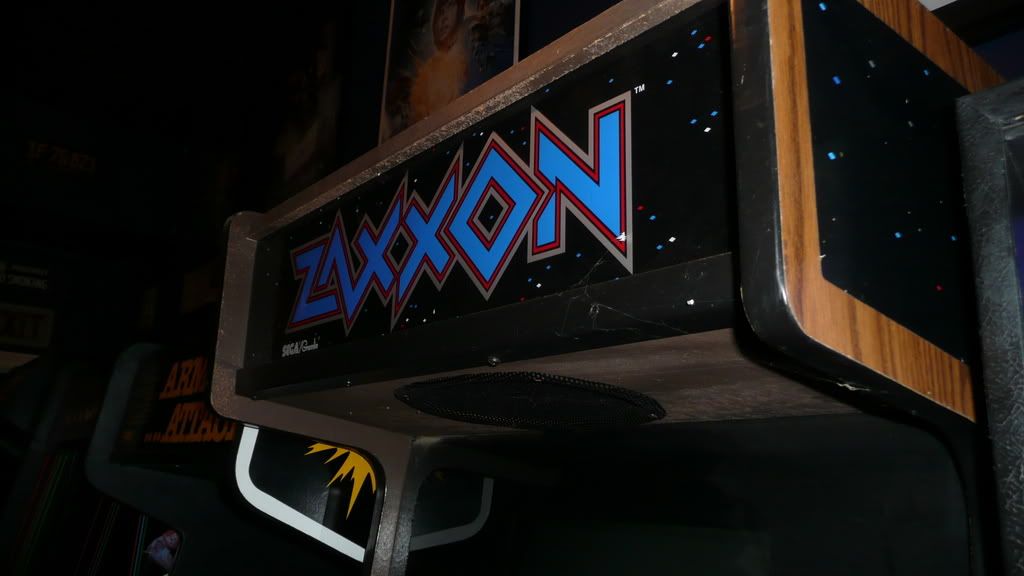 The original overlay and handle looking a little shabby-chic:
A chip dead-center of the front and chipped black paint and rust around the coin acceptors:
The lower panel in need of some TLC. Most of that is actually ON the paint, not scratches IN the paint :
The After :
Brown may be the new black, but on this game I had to march to my own beat:
The overlay isn't perfect, but it is better thanks to some Permatax Fast Orange hand cleaner followed up with some vinyl conditioner. I did in fact purchase one of the new overlays before I decided to salvage the old one so I set it aside. Normally I would have that joystick handle powdercoated, but this being a budget makeover I went with Rustoleum Satin :
The chip in the front was touched up with a dab of brown paint so it blends into the woodgrain better and your eyes are drawn to the fresh black paint of the coin acceptors: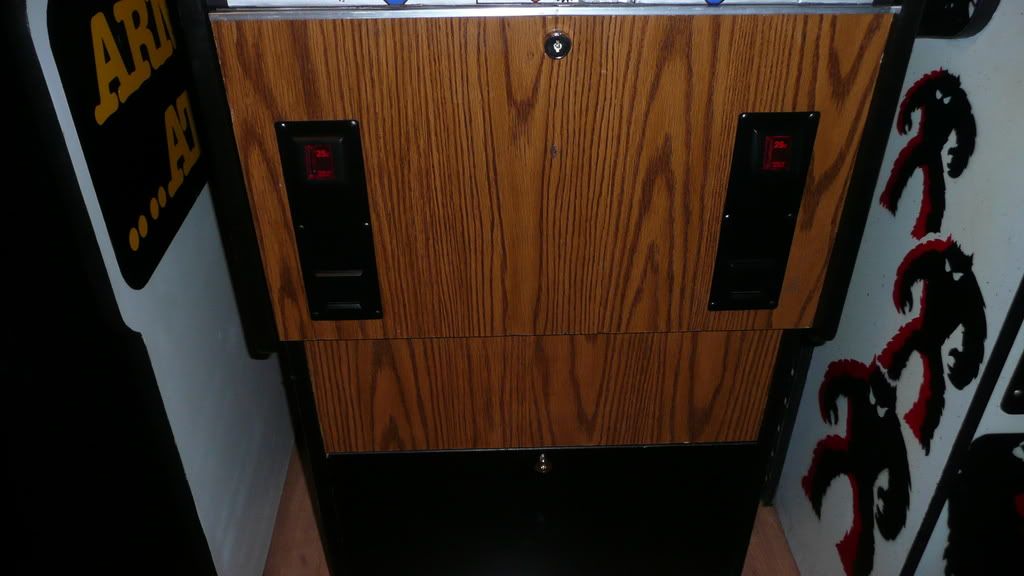 I was so close to repainting this whole panel but a little ( ok well alot of ) elbow grease and some touch up paint and the budget makeover train continued to roll:
Zaxxon struts it's stuff amongst the other classics.It's "stuff" may be a little time-worn, but this game has nothing to be ashamed of :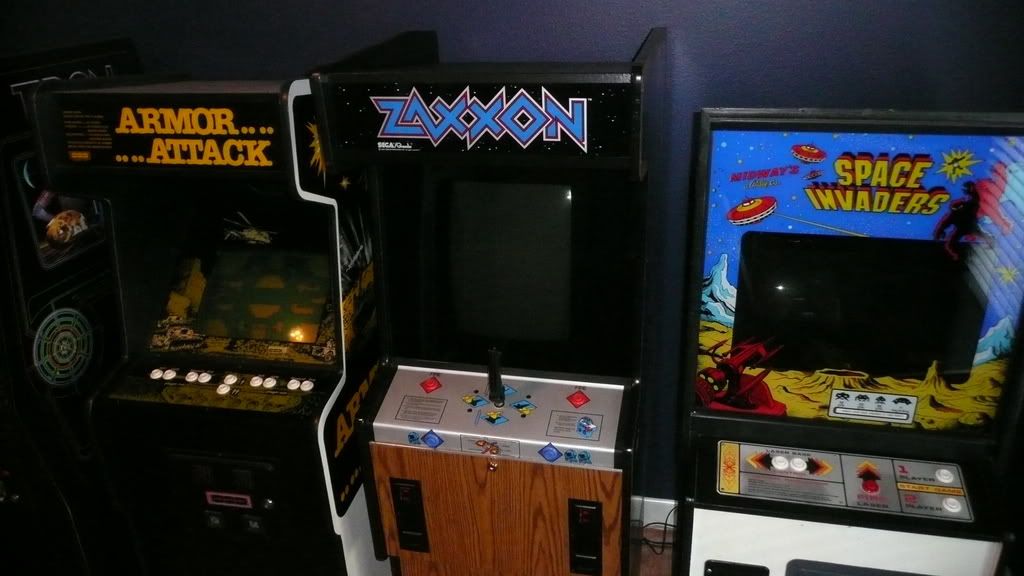 The End.